Vidya Kiran Projects
Vidya Kiran is the outreach program of Immanuel Church. Under this banner, we implement various compassionate projects for the society. The projects under Vidya Kiran are run with the financial help of our congregation and well-wishers. Let me take this opportunity to thank all those who supported the project financially and thru other means. Please uphold this mission of ours in your prayers. It's heartening to note that despite being a small congregation with less than hundred members we are able to run such a non-profitable project for the last ten years. Let us hope that our sister churches and nearby denominations take clue from this and run similar projects in the future for the needy.

We are running this school for the kids from the underprivileged families since year 1999. The school was run under the guidance of Ms. Sherly who is a trained teacher. Now we have two teachers and one helper who took care of the school.

The teachers take special care of the hygiene factor of the kids. They ensure that the kids come to the school wearing neat clothes with proper hygiene. We give basic nourishments to the kids on daily basis.

The school is run on the donations given by the church members and well wishers.

The kids who complete the preparatory classes of one year duration are given certificates which enable them to get admission into mainstream schools.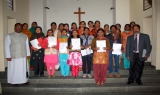 the tailoring school was started with the purpose of equipping the ladies of the nearyby locality self-sufficient. we run a six month course for the ladies. the ladies, once they go out start earning themselves either by working in the textile units or buying tailoring machines and stitching clothes.

The school is run on the donations given by the church members and well wishers.

We have a validation function every year on Christmas day for the outgoing students of the tailoring class. On the same day, students of both the classes perform various programs and share their experiences.


Computer Classes :
We are planning computer classes for the ladies of the nearby village to enable them "E-literate". The school will be started by June 2016.

Free Medical OPDs:
With the help of St. Stephen's Hospital, Tiz Hazari, we are planning a free medical OPDs for the needy in various disciplines. The plan is to start the project by June 2016.